Have some fun in the sun at Hermosa Beach
If you're looking for a summer vacation, or just a chance to get out on the beach, enjoy the sun and relax, then Hermosa Beach is hard to beat. It's a popular site for many Los Angeles locals looking for a break from the city or a popular nightlife hangout for college students. Be sure to bring your sunscreen, flip flops and swimsuit as you'll never want to leave the warm embrace of this vibrant beach town.
1. Hermosa Beach Pier
The Pier usually refers to the street before the actual pier that is full of bars, restaurants and surf shops. Come in the morning to watch surfers catch some waves, or dive in yourself! There is plenty of beachfront to lay out in the sun, pack a picnic, play beach volleyball or just splash in the ocean. If you walk out on the actual pier, try to spot dolphins and other marine life. It's also a great spot to take a date as you look over the ocean and watch the beautiful sunset. If you're looking for a great place to grab lunch or dinner, I would check out one of the restaurants with a patio so you can enjoy your meal with excellent people watching and view of the ocean. Some favorites are Palmilla Cocina Y Tequila, Silvio's Brazillian BBQ or Scotty's On The Strand. There are also plenty of options for great bars that can get packed during the weekends or at night.
Hermosa Beach Pier

Address: 1 Pier Ave, Hermosa Beach, CA 90254

Near by Food: Palmilla Cocina Y Tequila, Silvio's Brazillian BBQ or Scotty's On The Strand.

Website: Hermosa Beach Pier
2. Learn to ride the waves with surf lessons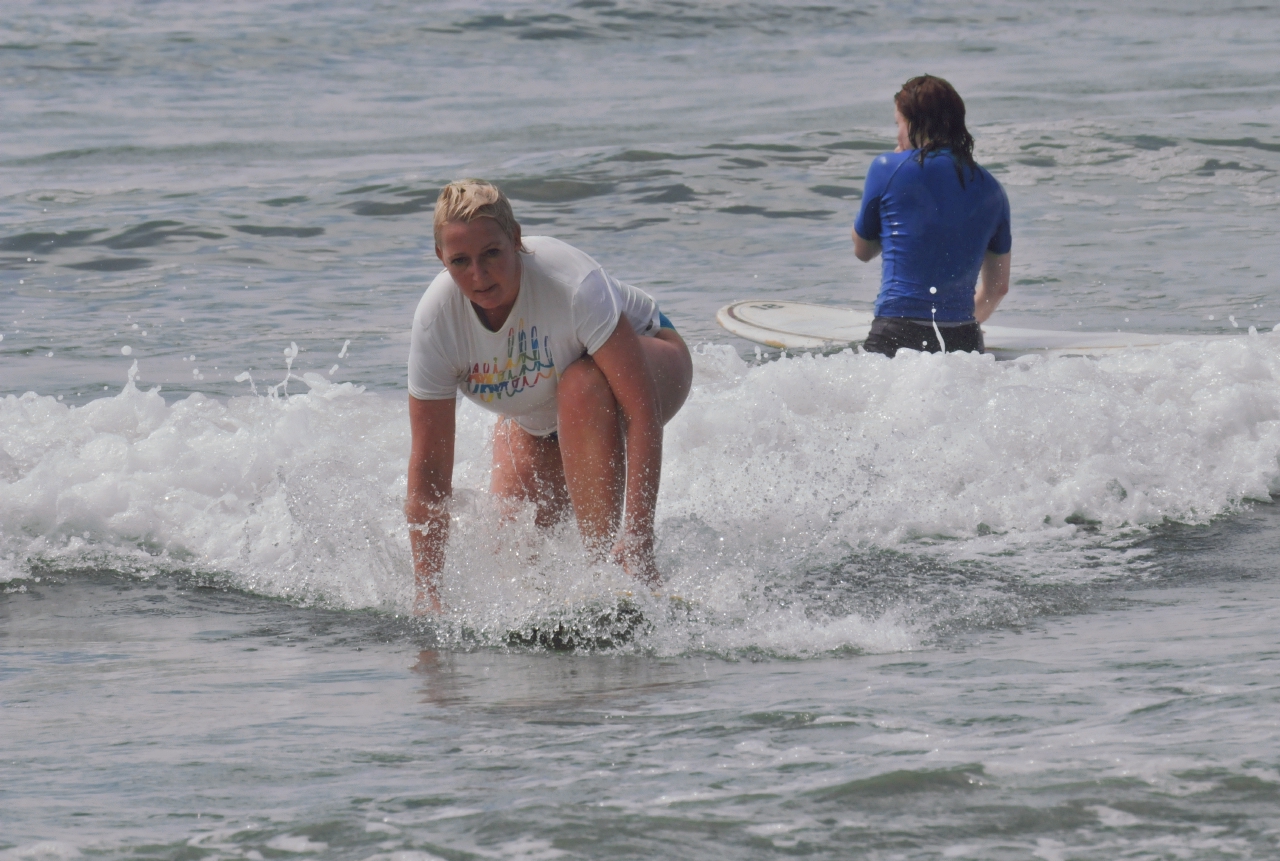 If you've always wanted to try surfing, Wavehuggers, a local surf lesson spot, is the place to go in Hermosa Beach. It's been called THE top surfing school in Southern California, where students are all taught by certified surfing instructors. Each lesson lasts two hours and everything is provided to get you all set-up: surfboard and wetsuit. You'll be taught everything from safety, etiquette, technique, tides and ocean conditions and all levels are welcome from beginners to expert surfers.
Wavehuggers

Address: 621 W Rosecrans Ave #204, Gardena, CA 90248

Contact: +1 310.910.9099

Website: Wavehuggers
3. Bike the The Marvin Braude Bike Path
The Marvin Braude Bike Path, commonly referred to as The Strand, is a paved path along the beachfront looking out onto the Pacific Ocean. It is a 22 mile (35 km) stretch of pathway that begins at Will Rogers State Beach, passing under the Santa Monica Pier, Venice Beach, Redondo Beach and ending at Torrance County Beach. This is a great way to see the shoreline, get some exercise and peruse the shops along the water. A convenient place to rent gear along The Strand is Hermosa Cyclery, where they rent bikes, skates and beach gear.
Hermosa Cyclery

Address: 20 13th St, Hermosa Beach, CA 90254

Website: Hermosa Cyclery
4. South Park
A recent addition to Hermosa Beach, this park is a wonderland for kids and adults alike. There is a grassy area for picnics and grills set up to fire up the BBQ. It's a great place to bring a group of friends or family and play some games in the park. They even have a roller hockey rink for those who are up for the challenge! Take the kids for a day out in the park, or pack a few sandwiches, cheese and wine and relax in the sun. The kids will love the sand pit area with a water spout, the modernized merry go-round and two long concrete slides. If you want to make the slides more thrilling, grab a piece of cardboard to slide down on to increase your speed!
South Park

Address: 425 Valley Dr, Hermosa Beach, CA 90254

Website: South Park
5. Have a laugh at The Comedy and Magic Club
This comedy and magic club is a local favorite, where you can grab a few friends or family and catch a show with the latest stand-up comedians. Be sure to check the schedule beforehand, but most Sunday nights, Jay Leno, the famous American comedian, actor, and television host will be on-stage. All seats are first come, first served, so make sure you arrive a little bit early! There is parking for 5 USD above the building and depending on the show, tickets can start from 20 USD. If you want to come for dinner, they also have a great selection in their Lounge area including wine and beer. Anything from salads to pasta to quick appetizers, this is also an excellent way to grab an early seat!
The Comedy & Magic Club

Address: 1018 Hermosa Ave, Hermosa Beach, CA 90254

Website: The Comedy & Magic Club
6. Visit the Hermosa Beach Museum
The Hermosa Beach Museum showcases memorabilia and other objects pertaining to the history of the City of Hermosa Beach.  In this museum, you can learn how the city has been involved in surf culture, the jazz movement in the South Bay and the punk music phenomenon.
Hermosa Beach Museum

Address: 710 Pier Avenue Hermosa Beach, CA 90254

Contact: +1 310.318.9421

Website: Hermosa Beach Museum
7. Stroll through Pier Avenue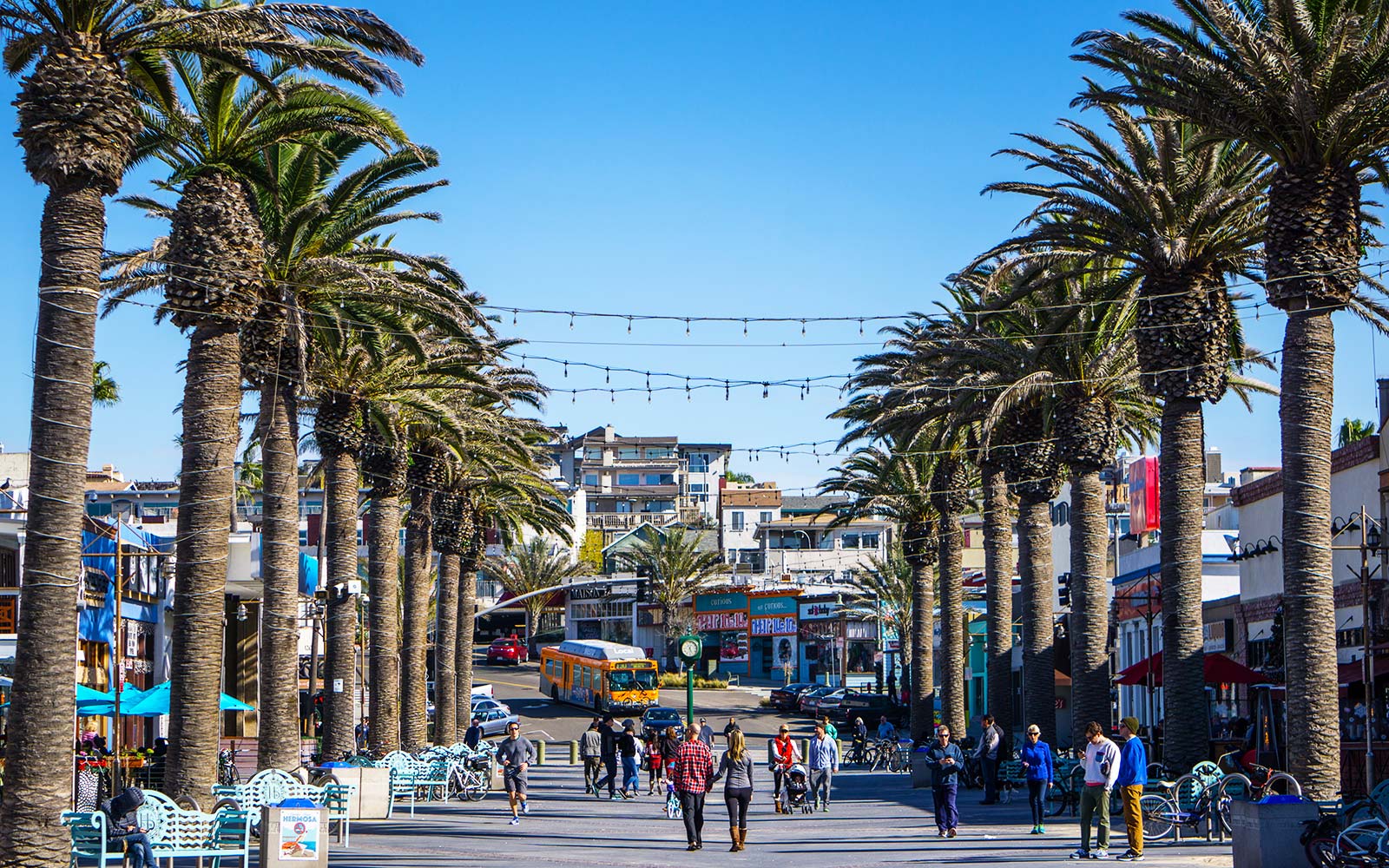 If you need a break from the sun, or just want to do a little shopping, head to Pier Avenue. Here you can peruse surf shops, grab some beach wear and a souvenir to bring home. If you need a pick-me-up, head into Java Man to grab a coffee and if you're there for breakfast they have tasty breakfast burritos, but they do run out quickly. Java Man also has free Wi-Fi if you need to catch up with anyone back home. If you're looking for a wine stop, check out Uncorked, a great place to grab a bottle of wine for the night or do a quick tasting. They have a great happy hour Monday-Thursday, 5pm-6:30pm, where a flight of 3 tastings is only 5 USD. Shop, explore and relax as you window-shop down this popular street.
Java Man

Address: 157 Pier Ave, Hermosa Beach, CA 90254

Contact: +1 310.379.7209

Website: Java Man